The perfect partner to Love High Speed's slow motion cameras is the cine modified manufacture industry robot arm from Mr Moco Rentals.
High speed cameras have been creating amazing shots in commercials and films shooting high frames rates at 1,000 fps or more for some time. In order to make these shots more exciting film-makers have been asking how to get the camera to not only shoot fast but also move fast at the same time. Mr Moco Rentals answer that question with the Bolt High Speed Cinebot.
Bolt has the ability to get up to full speed almost instantly so that the camera can go from standstill to high-speed motion and back to standstill in fractions of seconds, literally following falling objects and capturing images that would be impossible by hand or any other method. Combined with the Flair motion control software, the Bolt rig is quick to program moves and offers all of the features for importing moves from 3D packages and exporting moves. General inputs and outputs can be programmed for triggering at an exact time, such as the pour of a beer, the turning of an object, etc.
Bolt can be set up in a studio ready to shoot in under an hour. For high speed moves it is important the base of the rig is fixed to the floor, this is done by weighing down the unit with the weights provided.
The Bolt High Speed Cinebot can also be track mounted to allow tracking of the entire unit, adding further dimension and scope to this system. For this, the track must be screwed into the solid ground for stability.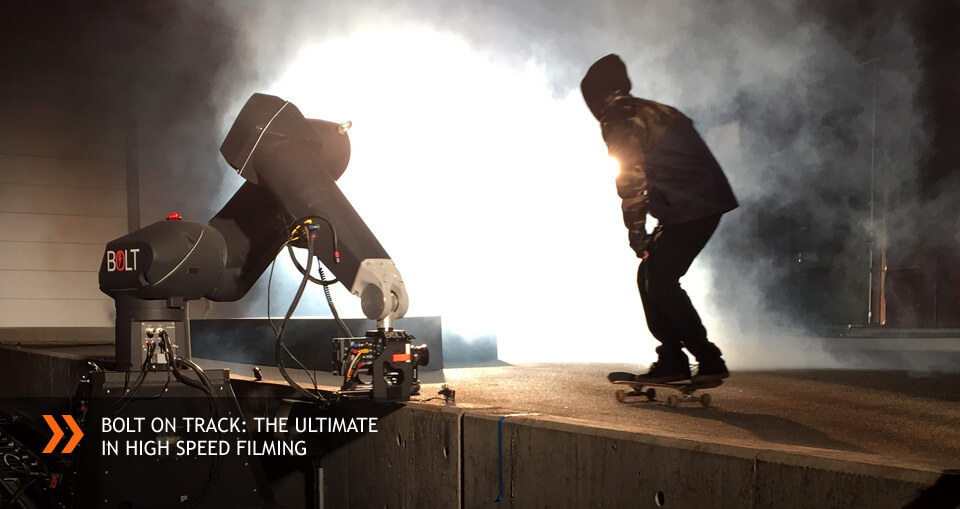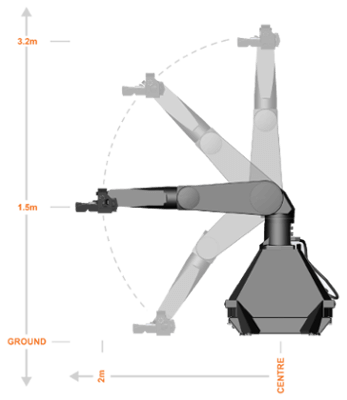 RIG PERFORMANCE
AXIS
RANGE OF TRAVEL
MAXIMUM SPEEDS
Rotate
+/- 160 degrees
240 degrees per second
Lift
+/- 137 degrees
240 degrees per second
Arm
+/- 150 degrees
300 degrees per second
Pan
+/- 270 degrees
315 degrees per second
Tilt
+/- 120 degrees
350 degrees per second
/-105 degrees
Roll
+/-270 degrees
870 degrees per second
Track
Unlimited
4.5 metres per second
RIG WEIGHTS
Kg
Lbs
Bolt Rig
430
948
Power Supply Unit
60
133
Counter weights if no screwed to the floor
560
1235
Maximum camera payload
20
344
PRACTICAL SHOOTING SPEEDS
MOVE
SPEED
1m (3'3") vertical move
Half a second
1m (3'3") horizontal move
Half a second
Complete 180 degree arc with a 75cm (2'5") radius
1.5 second
Complete 180 degree arc with a 45cm (1'5") radius
1 second
As well as countless professional shoots for commercials, TV dramas and feature films, Love High Speed and Mr Moco Rentals have collaborated on several demonstrations. These open days have shown the unique abilities of high speed cameras and the Bolt rig to a wide range of industry professionals.
Videos released by Mr Moco Rentals further demonstrate some of the many uses for this Cinebot Bolt rig as well as the new feature of the track system to move the entire rig.
Contact Mr Moco Rentals to arrange a demo or to discuss your requirements and get expert advice from one of our experienced motion control crew. For information about the use of high speed cameras with the Bolt, Contact Love High Speed.